Valentines Show: Kentucky Thunder featuring Jonell Mosser , Sheila Lawrence, Vickie Carrico, Etta Britt w / EG Kight
Thu
February 14, 2019
7:30 pm
(Doors:

6:00 pm

)
3rd and Lindsley
All Ages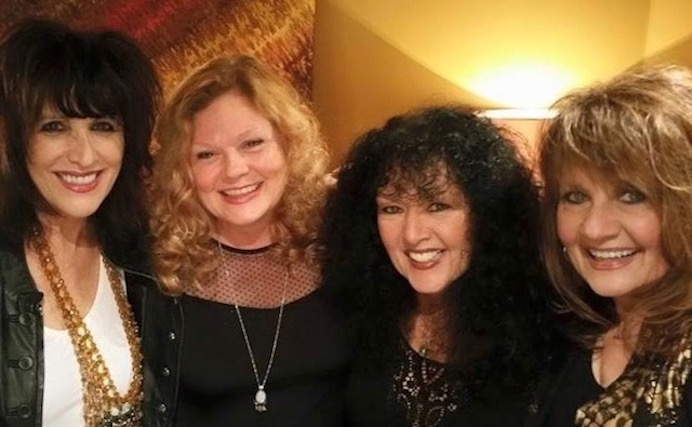 $15.00
What happens when four of Nashville's best singers get together on stage?
MAGIC!!! When Etta Britt and Sheila Lawrence came up with the concept of a female
quartet, they brainstormed on who would be a good fit. As soon as Jonell Mosser
and Vickie Carrico's names were mentioned, there was no doubt in their minds it
was right. And right it was.They booked a show at Green's Grocery, in Leiper's Fork and it sold out quickly. They decided to play an early show at 3rd and Lindsley, on a week night and when they arrived, there was a line down the sidewalk with people waiting to get aseat, they knew they had hit on something great and Kentucky Thunder has beenthrilling audiences ever since.

Each of the women has had a successful career on their own. Jonell has been playing to sold out shows, recorded her own records and performed with some of the biggest artists in the music industry. She is a Nashville favorite with a voice like an angel.
Sheila is one of Nashville's great songwriter's. She has recorded her songs and
played to packed houses for years. She never fails to get the crowd on their feet.
Vickie is one of the group's most seasoned performers. She has been in recording
studios, on stage and writing songs for over 30 years. With her big voice and
spunky stage presence, she lights up the stage and puts a smile on everyone's
face, especially her band mates.
Etta came to Nashville after joining RCA recording group "Dave and Sugar." Her
experience with group singing has been an asset to Kentucky Thunder. She has
also shared the stage and studio with many great artists. Her funky moves and
distinctive voice always makes the audience get on their feet and dance.
When the four women come together and share their talents with each other, you
can feel a sisterhood like no other. They are truly sisters in song. When you get
the chance to experience a Kentucky Thunder show, be ready to be whipped into
a frenzy. They never fail to thrill.
EG KIGHT BIO
In recent years EG Kight has emerged as a preeminent voice in roots music. Dubbed "The Georgia Songbird" decades ago, hers is a rich and velvety voice that's a cross between Phoebe Snow, Bonnie Raitt, and Patsy Cline. Kight has received various music industry nominations, including six for Female Artist of the Year, three for Song of the Year, and one for Album of the Year. With her rich vocals, well-crafted songs, and inimitable sense of humor, her stage show leaves her audience feeling like they've just walked down a country road with an old friend.
For several decades Kight has brought her diverse musical menu to various clubs, theaters, and festivals, even appearing on such mainstays as Nashville Now and NPR's "A Prairie Home Companion." And she has worked shows with artists across the genres, including Gregg Allman, Phoebe Snow, Merle Haggard, Koko Taylor, Little Feat, Lee Roy Parnell, B.B. King, and Delbert McClinton. Her songs have been recorded by various artists, including Koko Taylor, Dorothy Moore, and Shaun Murphy. And several songs aired on four major TV networks, one as recently as last fall on NBC's "Chicago PD." And she placed five songs in a movie that is available on Amazon Prime. Georgia Music Magazine writes that Kight is "a gentle and elegant woman who manages to channel Southern charm, sophistication and a fierce passion for music into one tremendously intoxicating voice."