Lightning 100 Nashville Sunday Night Presents
The Daybreaks w/ Them Vibes + Jeremy Lister
Sun
October 21, 2018
7:00 pm
(Doors:

6:00 pm

)
3rd and Lindsley
All Ages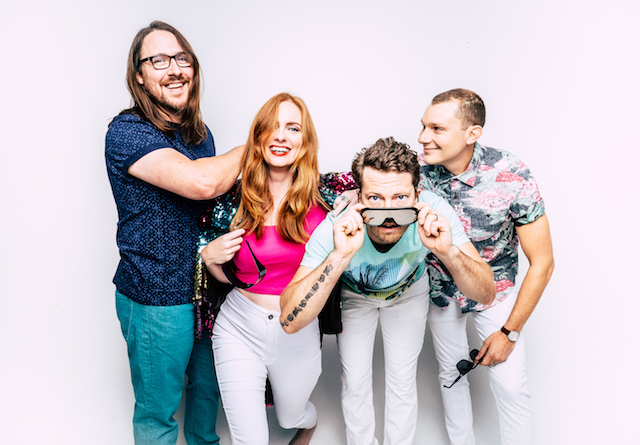 $10.00
DAYBREAKS
When songwriters Kaleb Jones and Heather Bond began writing music together in early 2015, their goal was not to start a band, but to write songs for use in TV and film. When Bobby Holland heard their early demos and suggested he produce a record for them; Bond and Jones jumped at the opportunity. Holland had previously worked with Jones, producing and mixing his solo concept album, "Open Ocean" (2014), and the two often discussed collaborating on a new project. During the course of recording, Holland began playing and singing background vocals on the project; only then did they seriously consider starting a band. The timing was perfect, and the three decided to form The Daybreaks in December 2015. Bond, Holland, and Jones are all music industry veterans. Both Jones and Bond have successful solo careers; Bond with her eloquent debut album "So Long" produced by GRAMMY award winner Matthew Odmark, her vivid "Walk Alone" EP, and various international advertising placements, and Jones as the frontman of Lorien, The Young International, and INTL, along with "Open Ocean," and success on NBC's hit series 'The Sing Off." Holland's mixing and producer credits run the gamut from Meghan Linsey, to Sam and Ruby, to Reece Mastin, to Milktooth, as well as INTL's 'Mystery,' and he is a respected multi-instrumentalist. With The Daybreaks, Holland's varied sensibility of sound, plus Bond's piano prowess, paired
with Jones' bold guitar playing, is at once immediately welcoming and uncharted territory. The blend of Bond's and Jones' voices is beautiful; Jones' vocal power is skillfully matched by Bond's celestial sound, with the combination intensified by Holland's production. The Daybreaks have written electrifying lyrics that intrigue the listener and beg for repeat spins.
THEM VIBES
Formed in East Nashville's underground rock scene in 2013, the band quickly shook the foundations of Music City with their blitzkrieg live show and soulful songwriting. Influenced by the rhythmic sway of The Faces and T-Rex and infected with the raw energy of the Rolling Stones and the Black Crowes, Them Vibes have injected new life into the anemic arm of what currently passes for mainstream rock n' roll. Them Vibes' sophomore release was the heavy hitting EP TV. took the helm as producer. The result was a five song cliff dive of psychedelic, hard driving, slinky grooving, swamp-howling rock n roll. Their biggest commercial success was led by their raucous song Crying Shame, which was chosen by T-Mobile to lead their spring campaign. Off the heals of their strides stateside, the band turned their attention across the pond embarking on a month long European tour. Playing sold out shows in Germany, France, Belgium, Slovakia, and Spain, gaining critical acclaim, radio play and most importantly throngs of new fans. The twelve side LP is colored in Muscle Shoals soul, hip shaking beat break funk, southern rock harmony guitars, tribal heavy rhythms injected with rock n roll ferocity, broke down acoustic delight, and all and above driven by harmony and groove full speed ahead.