BACKSTAGE NASHVILLE! DAYTIME HIT SONGWRITERS SHOW feat. Danny Myrick , George Ducas , Wyatt McCubbin & Megan Linville and Lexi Sidders
Sat
March 25, 2023
12:30 pm
(Doors:

11:00 am

)
3rd and Lindsley
All Ages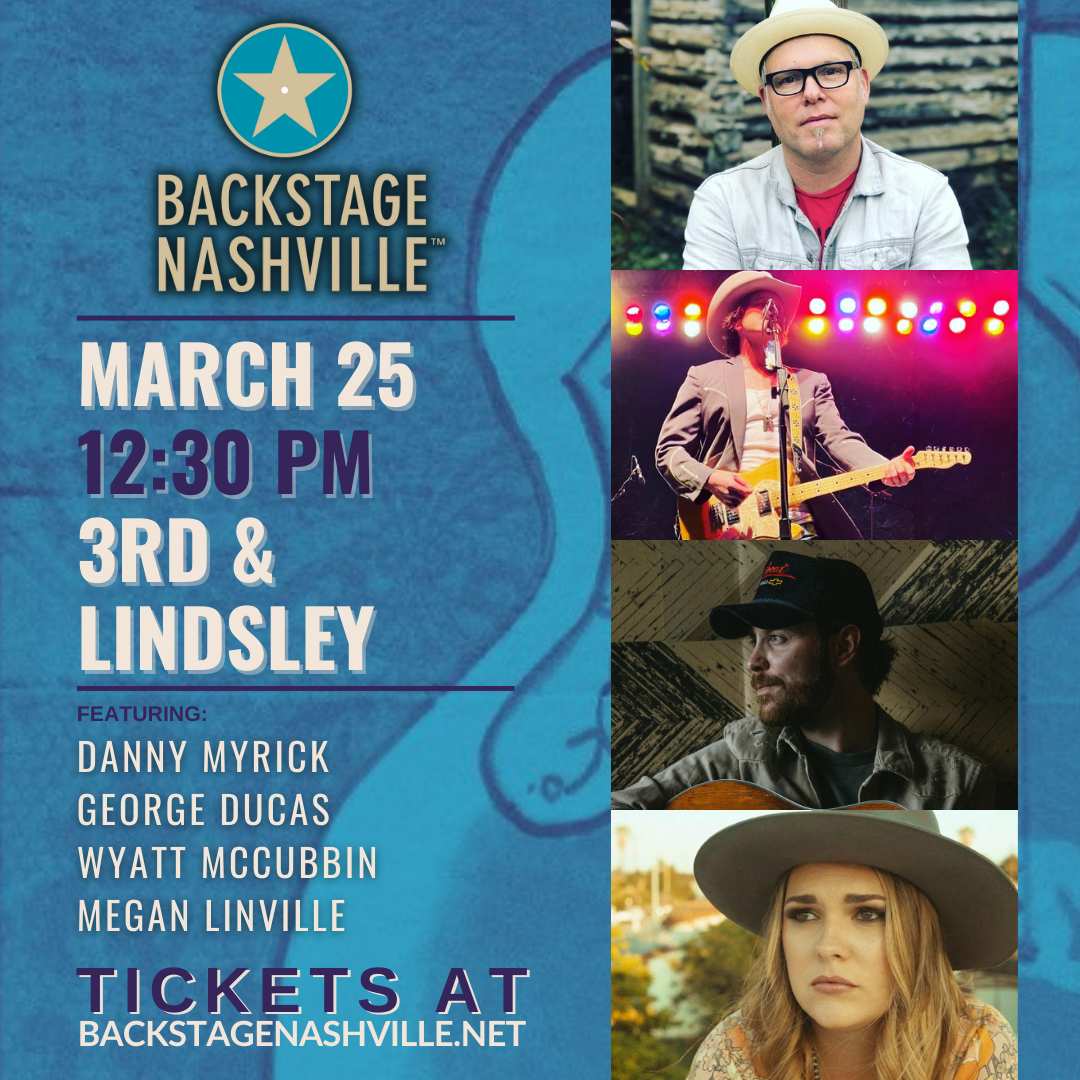 $20.00 - $125.00
Hear country music's biggest songs and the stories behind them at Nashville's only DAYTIME hit songwriters show.
Featuring:
Danny Myrick
- "She's Country" (Jason Aldean)
- "I Love This Life" (LoCash)
- "How Far Do You Wanna Go?" (Gloriana)
- "Truck Yeah" (Tim McGraw)
- "Let It Slide" (Leslie Jordan, Blanco Brown and Locash)
- "Got My Country On" (Chris Cagle)
- "Home Sweet Home" (The Farm)
- "Raised Right" (Reyna Roberts)
- "Night Left" (Jake Hoot)
- "Had To Lose" (Jake Hoot)
- "Comin' From" (Nick Boyd)
- "A Real Fine Place To Start" (Sara Evans)
- "Just Call Me Lonesome" (Radney Foster)
- "Lipstick Promises" (George Ducas)
- "Teardrops" (George Ducas)
- "Kiss Me In The Dark" (Randy Rogers)
- "Always The Love Songs" (Eli Young Band)
- "Beer Run (B Double E Double Are You In?)" (Garth Brooks and George Jones)
- "Won't Be Lonely Long" (Josh Thompson)
Wyatt McCubbin
- "Honky Tonk Hardwood Floors" (Cody Johnson)
- "We Were Cowboys" (Kameron Marlowe)
- "Drank Thru It" (Tracy Lawrence)
- "Let's Do Country Right" (Easton Corbin)
- "Somethin' That Makes You Smile" (Dustin Lynch)
- "Put 'Em On Mine" (Riley Green)
- "Who Needs You" (Tracy Lawrence)
- "I Can't Count That High" (Wyatt McCubbin)
- "Tearin' Down Memories" (Wyatt McCubbin)
- "For A Good Ol' Boy Like Me" (Wyatt McCubbin)
- "Honky Damn Tonk" (Wyatt McCubbin)
- "The Bottom (Raise Em Up)" (Jacob Bryant)
- "Dust Under My Rug" (Brent Cobb)
- "Build Me A Bridge" (Flatt Lonesome)
BACKSTAGE NASHVILLE DISCOVERY:
Megan Linville
BACKSTAGE NASHVILLE PRE-SHOW OPENING ACT (begins at 12:10 PM): Lexi Sidders
Doors open at 11 AM. Food and beverages served when doors open!
VIP Reserved seating available (each VIP Reserved table can seat up to 4 people). Don't miss your chance to grab the best seats in the house!
For more information about Backstage Nashville, please visit
www.BackstageNashville.net
!
Address:
818 3rd Avenue South