Lightning 100 Nashville Sunday Night
Courtney Marie Andrews w/ Ben Dickey
Sun
June 30, 2019
8:00 pm
(Doors:

6:00 pm

)
3rd and Lindsley
All Ages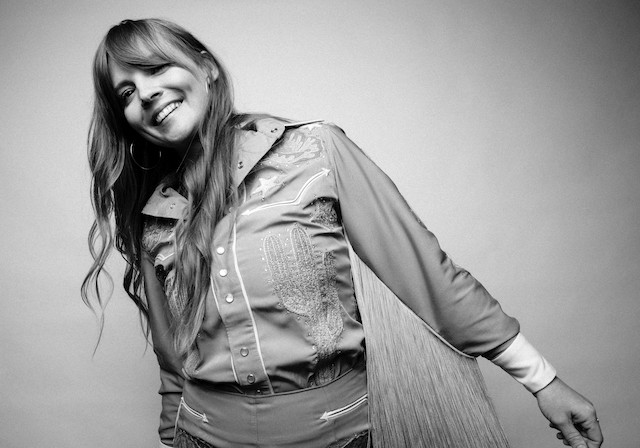 $15.00

Courtney Marie Andrews spent over nine months of 2017 on the road, with multiple trips across the US, Canada, Europe, Australia and New Zealand. That's nothing new for Andrews, though. She's been touring relentlessly since leaving her Arizona hometown at 16. It's a life that inspired much of her 2016 breakthrough album, Honest Life. While that album's themes spoke to the isolation and rootlessness inherent in a life on the road, most of its songs were actually written during an intentional, extended break. The success that followed its release, however, didn't afford her the same break to write the material for her new album.
Although May Your Kindness Remain was predominately written on the road -- in the van, in hotels, and in the homes of family and friends -- it's not a road record like its predecessor. That is, it's not so much inspired by her life on the road so much as it is by the people she's met along the way. It's an inward reflection on the connectivity of their stories and her own.
May Your Kindness Remain is full of vivid depictions of complex people and places with all too common struggles. Much of the album deals with the psychological and relational impact of the unrealistic picture of success that is so embedded in modern American culture.There are no simple answers in these songs. There's just an acknowledgement of our shared hardships and a call for empathy.
Despite its characters' burdens, May Your Kindness Remain isn't downtrodden. There's a defiance built into its melancholy, a sense that even the most complicated problems are worth facing -- a sentiment that also explains why the album's music refuses to stay within any rigid sonic boundaries.
Andrews recalls Howard saying that he liked "making records that you can live in." To her, it felt intuitive, natural and spontaneous -- an extension of the songwriting process that went into these songs. Howard, Andrews and the band lived in that house for eight days, barely fitting it in between two tours. As is Howard's custom, the house was the studio. He brought all the gear, recording everyone in the same room to a live board, live off the floor. "A lot of the record is either the first take or we did just one overdub," Andrews says. "Nothing's overthought." The band set up in a circle, watching each other across the room as they played each song live.
As a result, the album sounds intimate and warm, as if listeners are in the house with them, watching it all unfold. While May Your Kindness Remain is Andrews' fullest sounding record to date, the songs and her vocals are never eclipsed. "Mark's really good about stripping the song down to the bones, and asking, 'Where is the song in this? And how do we make the song come out while still having great instrumentation?'" Andrews recalls.
In the end, May Your Kindness Remain finds Andrews at home in her restlessness, embracing her intuition. It has stretched her vocals, her sound and her songwriting to new depths and produced a brave record -- a record that is unafraid of addressing the complexities of life in order to find common ground and understanding, no matter how divided this world may seem.