Annie & the Big Band Christmas - Benefitting Alive
Mon
December 18, 2023
7:30 pm
(Doors:

6:00 pm

)
3rd and Lindsley
All Ages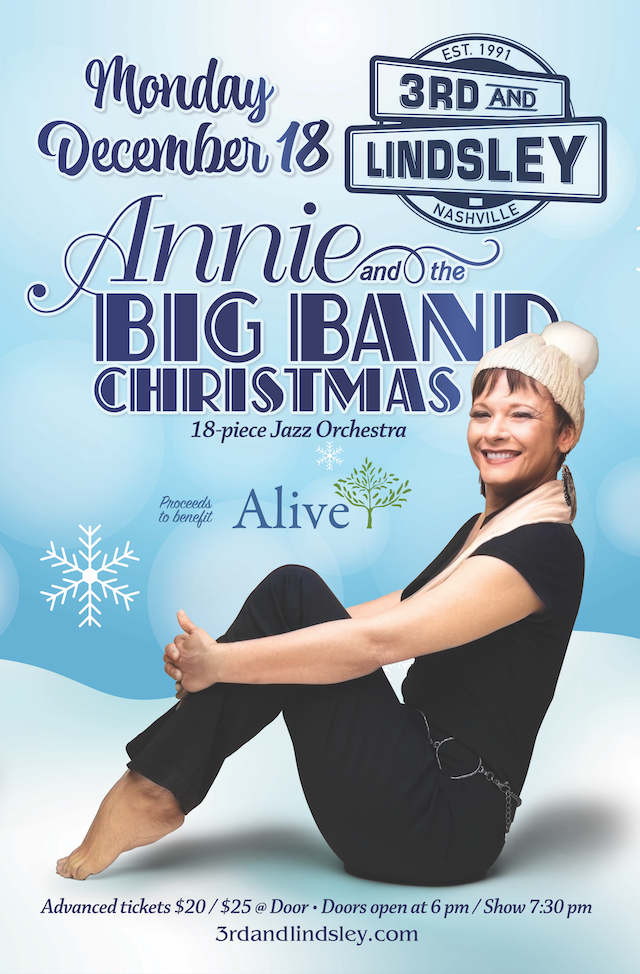 $20.00 - $200.00
Annie and the Big Band Christmas - Benefiting Alive
"It's that time of year when the world falls in love" with Annie Sellick…again...for her fourth-annual Christmas benefit concert. Since her early days charming crowds in the Southeast with her engaging stage presence, rhythmic play and story-telling vocal style, Native Nashvillian Annie Sellick has sung with jazz trios and big bands all over the country as well as the globe, not to mention work with some of her musical heroes including Tommy Emmanuel, Bela Fleck, Mark O'Connor and Joey DeFrancesco. She brings it home for the holidays again this year, with her big band in repeat performance. "Annie and the Big Band Christmas" which benefits Alive Hospice has a history of selling out the venue, raising money for the organization close to her heart and for whom she has focused her volunteer efforts.
Her 18-piece jazz orchestra in past years featured some of Nashville's most treasured jazz soloists, and we expect no less this season as Ms. Sellick swings the feel-goodies like "Winter Wonderland", "The Christmas Waltz", "Let it Snow" and "The Christmas Song". She features big band embellishments of original songs from her Christmas Album - "Let's Make A Christmas Memory" and "To Those Who Believe". Christmastime is almost upon us - you can feel it everywhere! You can almost smell the cookies…
Monday, Dec 18th, 2023
Doors at 6
Show at 7:30
$20 in advance / $25 day of show
Watch on YouTube
https://youtu.be/u2QzxOs3Rx8
Alive hospice provides personalized end-of-life care for families in and around Nashville. It is the only nonprofit hospice in Middle Tennessee. Thanks to donor support, we go above and beyond standard hospice care with special offerings for the whole community that include financial aid for patients and families, caregiver support, counseling, grief camps for kids, end-of-life care education, community building, and remembrance events. We are also the only hospice in the region with its own residential in-patient units, on-staff doctors and pharmacist, and a dedicated team for children with pediatric specialists.
We provide personalized care to nearly 5,000 patients and their families annually and grief support services for more than 700 adults and children in Middle Tennessee.
But our work goes far beyond the numbers. The heart of Alive is the love, compassion, and personalized service we bring to every patient and family in our care.