JEFF COFFIN & AFRICA NASHVILLE & Lightning 100
COUNTRY MUSIC FROM OTHER COUNTRIES featuring Raul Malo, Yeli Ensemble, Wu Fei & Coffin/Perlson/Krauss
Sun
January 29, 2023
7:00 pm
(Doors:

5:30 pm

)
3rd and Lindsley
All Ages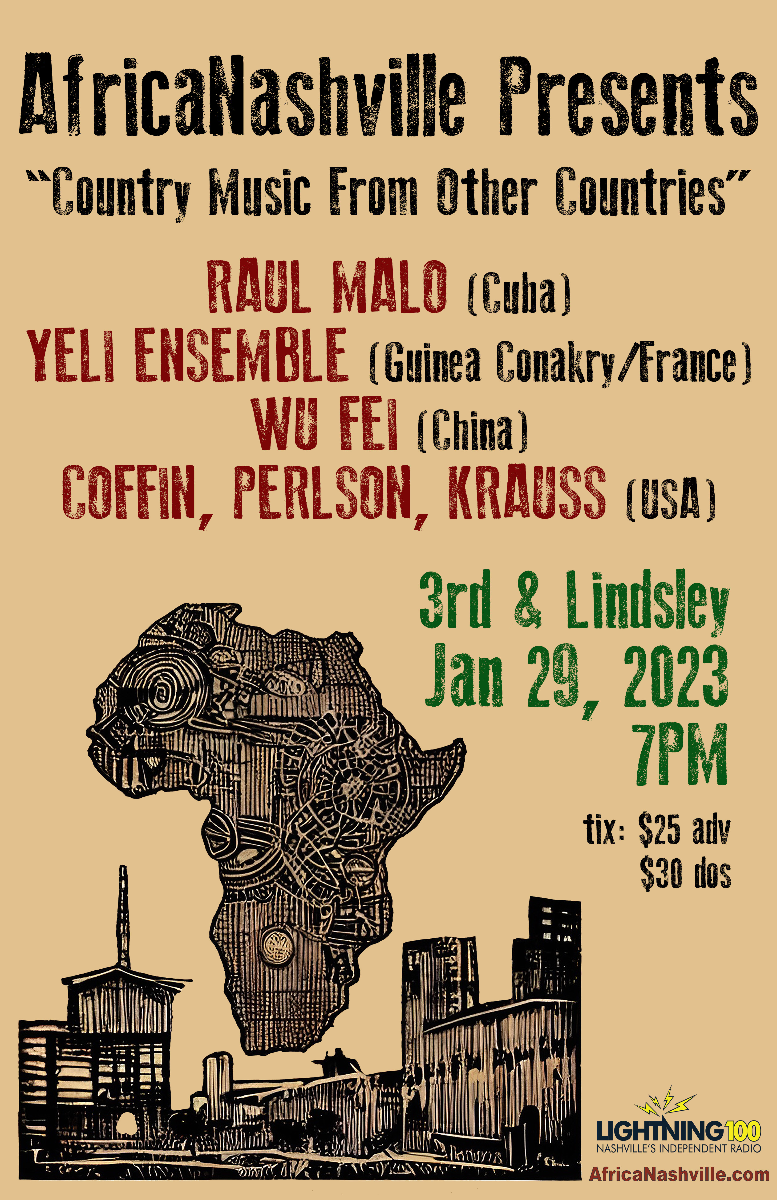 $25.00 - $200.00
RAUL MALO (Cuban):
Raul is the incomparable frontman of genre-defying, GRAMMY Award-winning band The Mavericks, and the sole writer of many of their songs. His free-wheeling, swaggering style seamlessly blends neo-traditional country, rock 'n roll, and Latin rhythmic fervor, and prominently features his lush, soaring baritone.From his earliest days, when his raucous sound broke ground at the punk clubs on Miami Beach, to fronting The Mavericks over three decades of acclaimed touring and recording, Malo has demonstrated an unfailing skill for getting people to groove.
YELI ENSEMBLE (West African):
SORY, & IBRAHIMA are from the Yeli caste (also called Djeli or Griot). MOHAMED AND AGATHE were raised in a Yeli tradition by their parents. A 'Yeli' is a 'living archive' of the African people's traditions. They all grew up learning their traditional music and dance from their parents and elders and are recognized as storytellers and keepers of knowledge that has been passed down through countless generations.
WU FEI (Chinese):
Wu Fei is a classically trained composer, singer and master of the guzheng, the 21-string Chinese zither. She has performed around the world at venues including the Forbidden City, New York's MoMA, Paris' Quai Branly Museum, the North Sea Jazz Festival, Vossa Jazz, the Europalia Festival and the Big Ears Festival in Tennessee.
COFFIN/PERLSON/KRAUSS (US JAZZ/AMERICANA/ETC)
:
JEFF COFFIN
is a globally celebrated saxophonist, composer, educator, and is recognized for his breathtaking, enigmatic compositions, and searing improvisations. He is a member of the legendary U.S. rock group,
Dave Matthews Band
and you may also know him from his 14 year tenure, and 3 GRAMMY® Awards, with the genre-defying
Bela Fleck & the Flecktones
.
• • •
JORDAN PERLSON:
Drummer Jordan Perlson is one of the most dynamic and catalytic musicians you will hear. Transplanted from NYC to Nashville, Tennessee in 2016, Jordan remains an integral part of a wide international music scene.Jordan has become a well known and sought after force in these many musical circles.
• • •
VIKTOR KRAUSS:
Eclectic composer/bassist Viktor Krauss has been a presence in Nashville Tennessee since 1992 with over 500 album credits as either a bassist, composer/songwriter, or producer. On tour, Viktor has been heard and seen with Lyle Lovett's Large Band since 1994. Starting with 1996's "Nashville", Krauss began a long tenure with Jazz great Bill Frisell. In 2006, Viktor was awarded a fellowship for the prestigious Film Composers' Lab at the Sundance Institute and his film composing credits include music for directors Ken Burns and the late Robert Altman.