A Decade of Glowing feat. Mitzi Dawn, Lindsey Valeda, Alexis Wilkins & Jessica Willis Fisher Benefitting Firefly
Thu
August 25, 2022
7:00 pm
(Doors:

5:30 pm

)
3rd and Lindsley
All Ages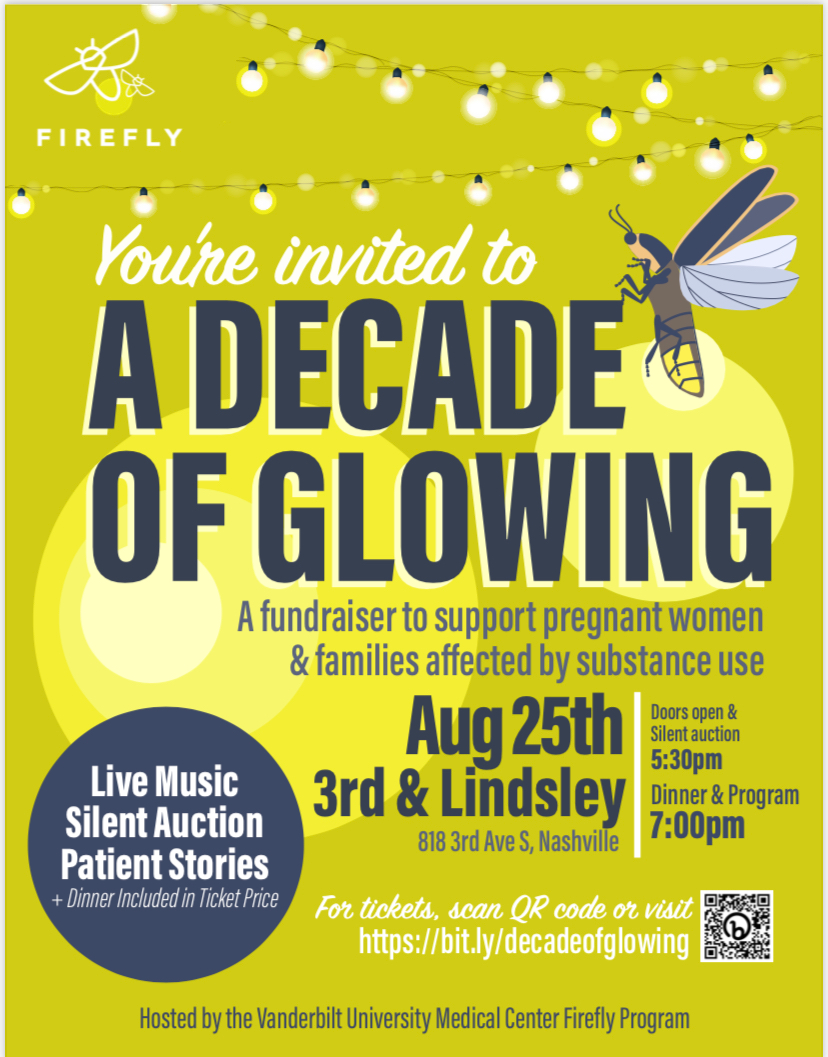 $75.00 - $1,000.00
A Decade of Glowing: A fundraising event celebrating 10 years of helping moms and babies in recovery. Tickets include dinner and program with patient stories and music by some talented artists.

Mitzi Dawn
During her time in music city Dawn wrote for Sam Ramage and Blake Chancy at RPM for 8 years. Mitzi also wrote for famous rock manager Doc McGhee for two years before opening her own publishing company with songs recorded by Billy Bob Thornton, Alabama's Randy Owen, Jeff Bates, Bradley Gaskin, Ronnie Dunn, Dan Hill, and Reba Mcantire.
Dawn, who celebrated 12 years in recovery in 2020, hosted live music at the Nashville Recovery Center, and recently released an independent record "Just Sing" in 2019. She is currently working on a therapy project called, Sacred Space Ship.
Lindsey Valeda
Originally from St. Louis, MO, I wound up in Nashville in 2013 after many failed attempts at living a fulfilling life. I moved here to reclaim myself and was reminded of my passion for music. I began writing more seriously and have met wonderful people who have cheered me on and have supported me along the way. Many of these people have believed in me even when I did not. With no plans of "making it big", I simply sing and play music because it feeds something inside of me."
Alexis Wilkins
It's a long story" she says, with a smile, of how she ended up where she is today.
Alexis Wilkins speaks the truth and owns who she is with her unapologetic storytelling, cowboy-like leaning, and definitive pull from the past. She honors country tradition while adding relevance and current commentary. Arkansas-bred and Nashville-based singer/songwriter and commanding artist; Wilkins struck platinum with her debut single release garnering over 1,000,000 streams across key platforms. With this came accolades and endorsements from
CMT
,
American Songwriter
,
Today in Nashville
, and more.
Jessica Willis Fisher
Guided by joy, courage, and gratitude, Jessica Willis Fisher reclaims her voice on her debut solo album,
Brand New Day
. By centering her story around original songs, expressive vocals, and acoustic arrangements, she begins an authentic new journey after a dramatic and sudden departure from her family's band.
"Music has been one of the things that's helped me survive," she says. "It is a therapy for me and yet it betrayed me and broke me down at some point. So, coming back, it's been full circle. I would say the last five or six years have been, step-by-step, about reacquainting myself and getting a whole new lease on my creative life. For me, music is about getting to know myself better. It's really, really important to me. I feel lucky to be coming back to it."