Allie Colleen, Wade Sapp, Ross Cooper & Scooter Brown
Wed
October 21, 2020
6:00 pm
(Doors:

5:30 pm

)
3rd and Lindsley
All Ages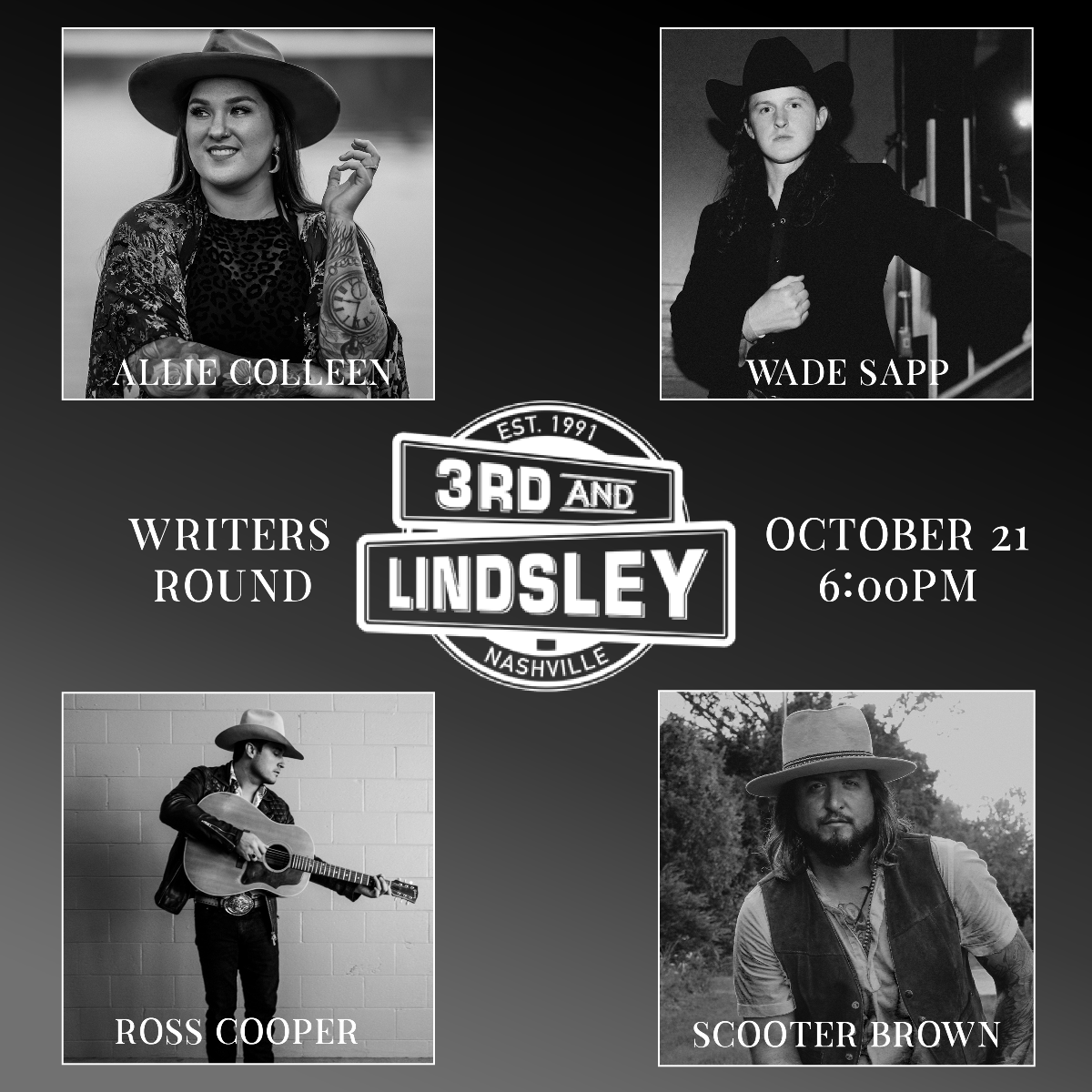 FREE ADMISSION
Wade Sapp:
Wade Sapp is a country singer. His music is steeped in tradition, but he implements a vast range of influences taken from rock, folk, and soul music. He comes from the South Florida small town of Okeechobee where livestock outnumbers the people. When Wade was eight years old his family moved to Marietta, GA where the people outnumber everything. That's where Wade taught himself to play guitar and began playing shows in the bars and clubs around Atlanta. After seven years of paying dues across the Southeast, Wade decided it was time to take his music career to the next level and moved to Nashville in 2016.
Scooter Brown:
After four years and three months, two tours overseas with one tour of combat in Iraq as a United States Marine, Scooter Brown traded his guns in for guitars and hit the road. Scooter Brown Band was formed and began playing mainly in and around Houston, Texas. They have toured North America and opened for some of their biggest influences including Charlie Daniels Band, Travis Tritt, Dwight Yoakam, Lee Roy Parnell and the Marshall Tucker Band, just to name a few. With two of the members having served in the military, they dedicate significant time doing work for Veteran Support Organizations like Base Camp 40 - Warriors in the Wild, Lone Survivor Foundation, and the Chris Kyle Frog Foundation.
Allie Colleen:
Allie Colleen was named one of Wide Open Country's Artist to Watch 2020! She is a Belmont University graduate from Owasso, Oklahoma performs with a style that is truly her own and she is no stranger to the music industry. Her passion for singing and songwriting since a young age has garnered her a reputation of being a notable songwriter with an iconic-sounding, impeccably strong voice that accents her Americana sound. The room never fails to silence as Allie Colleen begins to sing about the layers of love and heart-break that have shaped her, including some of her newest songs with witty lyrics and a personal connection to the song unlike most today.
Ross Cooper
There's a stillness in the streets of Lubbock at night. If you've ever found midnight in the alley's between Texas Avenue and 17th Street, you might have seen the ghost of Buddy Holly slip around the corner of heard the faint notes of a lonesome west Texas guitar fading down toward U.S. 62. In the right light, the city looks like a scene from an old Hollywood cowboy film, full of bravado and despair, ringing with hope and adventure. Ross Cooper grew up surrounded by the melancholy of that city, floating between his love of horses and song.