James Hatem with Beau Turrentine, Zach Torres, & Brad Sample
Tue
January 8, 2019
7:00 pm
(Doors:

6:00 pm

)
3rd and Lindsley
All Ages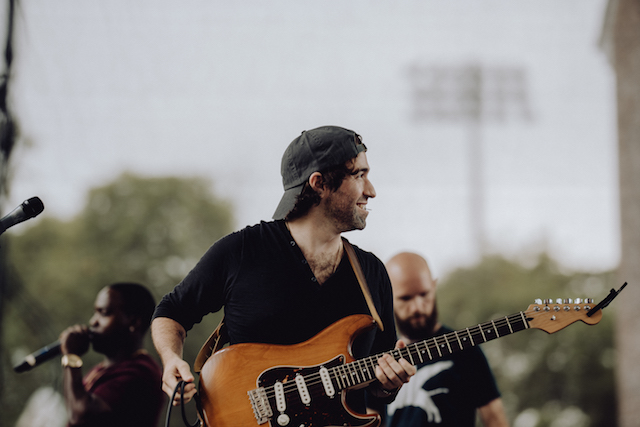 $10.00
James Hatem:
James Hatem has been writing music and playing live since he was able to. Originally from New Jersey, he is now very happy to call Nashville home. He has been touring and performing his brand of commercial music rooted in Blues and Rock all through the East Coast and South East. James has had the pleasure of playing and touring arenas, festivals, colleges, and historic venues such as Mennen Arena, The Stone Pony, Solar Expo Festival, Hard Rock Café in Philadelphia, World Café Live: Philadelphia, and more. His main goal is to move people with the right combination of music and lyrics to reveal just how powerful songs can be.
Zach Torres:
Zach Torres' voice has been compared to James Taylor, Vince Gill and other old souls. No small feat to be certain, but his voice delivers. In today's sea of grating voices and beats, Torres' voice is deceptively simplistic, resonating deep long after the last chord fades out.
It's always been music. He learned piano at age 8 and picked up a few more instruments and places along the way. He lived in Nashville briefly for his first year of college, before moving back to his native Texas to play shows in Austin and later studying guitar at a prestigious music college in Boston.
"A Bit Like Home" was recorded in Boston amongst friends, written over the course of Torres' meanderings the past five years. He's still finding his voice, some days channeling old Texas troubadours and others a more piano-based beat. He's figuring it out and for once, laying down shallow roots in East Nashville, which feels like home these days.
Beau Turrentine:
I am a songwriter and producer from Oklahoma currently living in Nashville, TN. I started playing guitar and singing at seven years old and wrote my first song soon after on one string. I'm inspired by artists such as John Lennon, Neil Young, Frank Ocean, Elvis Presley, Merle Haggard, Waylon Jennings, Lil Wayne, Elton John, Bob Dylan, Otis Redding, Al Green, and many more. I truly play what I feel. My lyrics are phrases and feelings that I say and have. The best way to describe my sound is an extension of myself. I can't put my work into any particular "genre" - it's me. I love what I do.
Brad Sample:
"It's a strange place to find yourself: simultaneously a veteran and a newcomer. As a guitarist, Brad has played to 750k+ people, had countless performances (outside the circle) at the Grand Ole Opry, and has been broadcast nationally across television airwaves. As an artist, he's beginning to sing his own song. Teaming with Grammy-nominated Nashville producer and engineer Bobby Holland, he made the album he's always wanted to: an energetic, diverse mix of raw country blues with reverb-laden rock & roll that allows his signature guitar tone to shine. All these elements are equally featured in the debut single "Break My Heart."