THE HAMILTONES with Kim Fleming and Jovan Bender
Sat
April 7, 2018
8:00 pm
(Doors:

6:00 pm

)
3rd and Lindsley
All Ages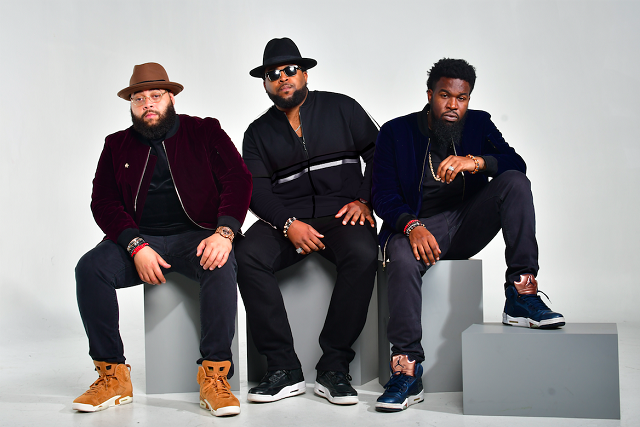 $27.31 - $54.63
As the background vocalists for Grammy Award Winner Anthony Hamilton, The Hamiltones have thrilled audiences all across the world. This year the trio celebrates a joint nomination with Hamilton and themselves for "Best Traditional R&B Performance" with the title song from Hamilton's latest project "What I'm Feelin'".
This trio of North Carolina natives started out singing and playing instruments separately in their hometown churches. Their families watched as their boys went from church pews to the big stage. As they matured, the industry took notice; and while still in their teens, they managed to hit the road with acts like Jodeci, Fantasia Barrino and Leela James to name a few. Even though The Hamiltones honed their skills as individuals, fate would have them come together when a mutual friend introduced them all to Anthony Hamilton.
Things moved pretty fast and before long Hamilton and The Hamiltones were dazzling audiences from Australia to Africa. One day during rehearsal a band member used his cell phone to record the group playing around. They were putting a gospel spin on a song that was a hit at the time. No one thought much of it, but later in the day the clip was uploaded to Facebook where it reached nearly 1 million view in under 24 hours.
The Hamiltones continued to create quartet styled renditions of popular songs and the notariety helped the group to begin its transition from the background to the forefront. The exposure has opened up many doors. The Hamiltones have appeared on The Breakfast Club, The Steve Harvey Morning Show, Good Morning America, Jimmy Kimmel LIve, and more. As a result of their overwhelming talent, down to earth personallities and mainstream media exposure, they have begun to sell out their own shows while still balancing singing background vocals for Anthony Hamilton.
Their highly anticipated debut album is slated for release in the second quarter of 2018!