Jackopierce
Thu
February 8, 2024
7:30 pm
(Doors:

6:00 pm

)
3rd and Lindsley
All Ages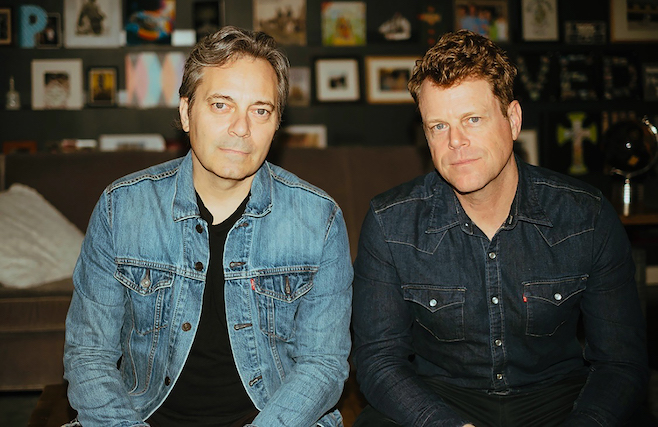 $35.00 - $200.00
A river runs through this swath of ranch land, snaking in serpentine contours through
willows and winters, destined for the nearby fertile plain to the south. Just before she
empties into the basin, she joins another moving band of water, on her own journey
from headwaters in the same mountain range.
Their power and beauty is greater at the confluence.
I walk that river now, alone, almost there, lost in song.
Well, almost alone.
Are you haunted by your dreams/do you walk with ghosts/do they call out and you don't
know what it means/or do you make a stand/turn around and shake their hand/on 191st
street
I walk with ghosts, too, along this riverbank. Divorces, struggles with sobriety, crises of
faith and confidence... we all walk with them, though we may call them by different
names. And when we find the courage to shake those ghosts' hands, brushing their
fingers in mutual acknowledgment and respect, sometimes we can let them go.
For good.
And then, finally free, we can turn to the future, and run into the joyful arms of breezy
melodies, joy, and hope.
Decline defeat politely/then we reassess/lift our heads up/on we press/don't you know
there ain't no magic potion/life it ebbs and flows just like the ocean/ride the waves but
don't get carried away/turn those lemons into lemonade/ahhh-we're back again
Cary Pierce's 'Back Again' is that joyous morning-after to Jack O'Neill's 'Cadillac Kings'
evening spent dancing with ghosts, the juxtaposition of dark and light reflected in their
own deep pool journeys.
Jack and Cary started playing together at SMU in Dallas, TX, when music was shared
via mix tape, not mp3. They'd spend the next 10 years recording albums and touring the
world, sharing stages with the biggest names of the era.
Those names don't matter here.
There's does.
Jackopierce.
Their inaugural decade ended in a short-lived sabbatical, with Jack heading to New York
to pursue acting and Cary embarking on a solo career. The duo reunited 5 years later,
shook the dust off, and launched another twenty-year run of successful albums and

tours, bookended by sold-out shows featuring an all-star backing band (Vertical Horizon,
anyone?) and popular destination events.
Along the way, Jack and Cary's personal journeys followed turns and drops unique to
them, but familiar to us all. And now, as this river meets the next, both peace with the
past and excitement for the forward-view is palpable.
And best heard through their songs.
Take a listen.
But not because they've been making music together for over 30 years, or because of
their half-million albums sold, or late-night talk show appearances, or influence on an
entire genre of acoustic-driven rock.
Listen because these two theater-major undergrads, with headwaters in the same
late-80s collegiate mountain range, have stumbled over their own stones and through
their own canyons over the last three decades.
And now, they meet again, where their power and beauty is the greatest.
Here, at the confluence.