Randall Shreve & Gwen Levey and The Breakdown + HiGRL
Thu
May 26, 2022
7:00 pm
(Doors:

6:00 pm

)
3rd and Lindsley
All Ages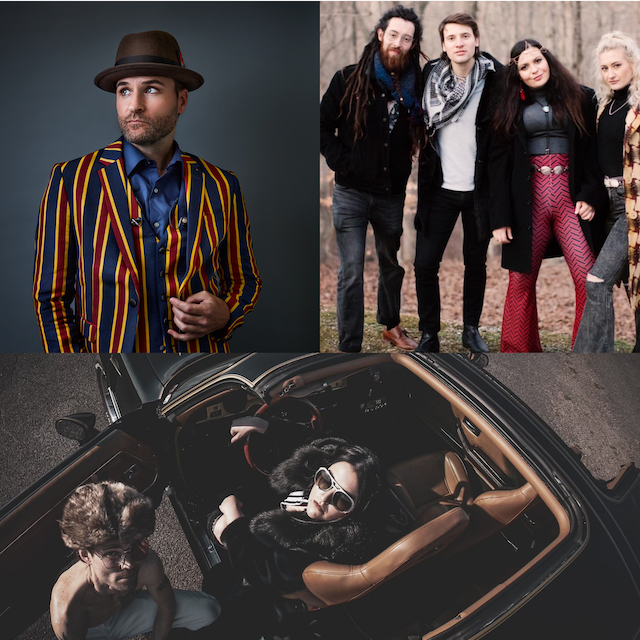 $10.00
Randall Shreve is a singer-songwriter and multi-instrumentalist out of Fayetteville, Arkansas. With his soulful vocals and moving melodies, Shreve affects his audiences in a way that is often described as a spiritual experience.
While he has toured for over a decade with and without a band, he also takes the "one-man-band show" to the next level. The show features the artist looping multiple instruments together giving the audience the experience of watching a song being created from scratch. His expertise in this process shines in every show.
Shreve's music combines genres in a very unique way. It is a kind of soul music with meaningful lyrics and heartfelt melodies. Some of his songs have a P. T. Barnum-esque quality that rings of circus sideshows, as Shreve was influenced by the circus when his father took him, as a child, to see a circus get set up in his hometown.
You won't see another show quite like Shreve's. This entertainer is bound to impress even casual concert-goers.
CMT featured artist Gwen Levey and The Breakdown are a 70's throwback outfit with roots in Country, Americana and Rock&Roll. Their debut album, 'Gypsy Soul,' showcases their fondness for the freedom and psychedelia of a bygone era. The Nashville based band consists of Gwen Levey (lead vocals/rhythm guitar), Evan Gross (lead guitar/vocals), Stevie Rae Stephens (keys/vocals), and Ben Reiff (drums/vocals). They have been featured on official Spotify playlists "Next From Nashville," "New In Nashville," "The Road to Americana," and "Fresh Finds: Country" and they have been featured by American Songwriter Magazine. Gwen Levey and The Breakdown have continuously been showcased on WMOT Roots Radio, the official sponsor of AMERICANAFEST, on their "LocalBrew Hour," as well as on Nashville's Independent station, Lightning 100, for "Spotlight 615."
"Brown Eyes Blue," the featured single off of the band's 'Gypsy Soul' album, is a fun, uptempo song about the heartache
Hey we're HiGRL, a Nashville-based alternative band. We formed right before the pandemic and luckily for us, we both had Covid at the same time so we were able to stay in the studio during the lockdown.
Our origin story goes like this: one night we met at Rosemary for drinks to celebrate a song that John Goody, one half of HiGRL, co-wrote being performed on the Opry for Dolly's 50th Anniversary. We couldn't get comped tickets and we didn't have $1500 to buy tickets, so we got fancy drinks and then sat in the car and listened to the Opry broadcast on WSM. That night the drip was strong and we both looked good as fuck, so we ever so tipsily formed a band purely based on our outfits.
HiGRL sounds like Beach Boys on the top and Wu-tang on the bottom with indie lofi guitars and hot silky vocals from Jordan Jackson, who hails from Rockabilly Queen Wanda Jackson. Jordan is a co-writer on Wanda Jackson's newest record "Encore" and she also co-produced two tracks on the project with femme fatale Joan Jett!
And remember, it'll be alright as long as there's light from a neon moon. HERE is a link to our EP.