BACKSTAGE NASHVILLE! DAYTIME HIT SONGWRITERS SHOW feat. Mark Nesler , Deanna Bryant , Ray Stephenson & Chris Harris
Sat
November 19, 2022
12:30 pm
(Doors:

11:00 am

)
3rd and Lindsley
All Ages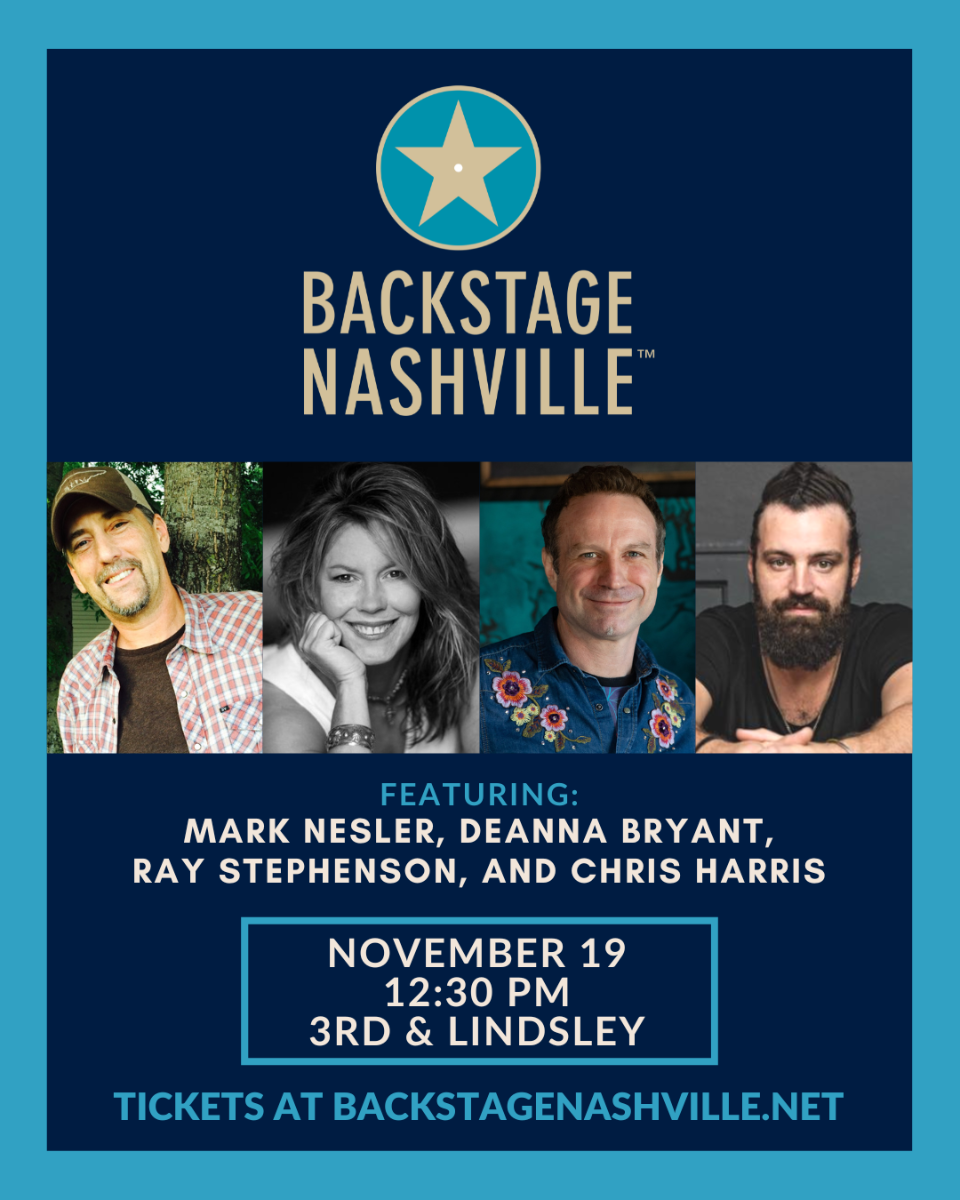 $20.00
Hear country music's biggest songs and the stories behind them at Nashville's only DAYTIME hit songwriters show.
Featuring:
Mark Nesler
- "Just To See You Smile" (Tim McGraw)
- "Go On" (George Strait)
- "Living And Living Well" (George Strait)
- "Let Me Down Easy" (Billy Currington)
- "Country On" (Luke Bryan)
- "You Look Good In My Shirt" (Keith Urban)
- "Why, Why, Why" (Billy Currington
)- "I Miss My Friend" (Daryll Worley)
- "Time Is Love" (Josh Turner)
- "For You I Will" (Aaron Tippin)
- "Country Strong" (Gwyneth Paltrow)
- "Just Let Me Be In Love" (Tracy Byrd)
- "Heaven In My Woman's Eyes" (Tracy Byrd)
Deanna Bryant
- "Stupid Boy" (Keith Urban)
- "Don't Make Me" (Blake Shelton)
- "Johnny And June" (Heidi Newfield)
- "Forever Love" (Reba McEntire)
- "Hard To Be A Hippie" (Billy Currington)
- "Not A Bad Thing" (Trisha Yearwood)
- "Easy To Love You" (Randy Travis)
- "Better" (Maggie Rose)
- "Unconditional" (Clay Davidson)
- "A Rose Is A Rose" (Meredith Edwards)
- "The Chance" (Julie Roberts & Shana Petrone)
- "Let Me In" (Chely Wright)
Ray Stephenson
- "Hemingway's Whiskey" (Kenny Chesney, Kris Kristofferson and Guy Clark)
- "Red River Blue" (Blake Shelton and Miranda Lambert)
- "Willie's Guitar" (Willie Nelson, Merle Haggard and John Anderson)
- "Honkytonk Road" (Wade Bowen, Randy Rogers, Cody Canada, Sean McConnell and Walt Wilkins)
- "Magdalene" (Guy Clark, Joe Ely and Kevin Welch)
- "Heroes" (Guy Clark)
- "Leanin' On A Lonesome Song" (Gord Bamford)
- "Rain In Durango" (Guy Clark)
- "Funny Bone" (Guy Clark)
- "Homeless" (Guy Clark)
BACKSTAGE NASHVILLE DISCOVERY: Chris Harris
Seating is general admission (doors open at 11 AM).
For more information about Backstage Nashville, please visit www.BackstageNashville.net!
Address: 818 3rd Avenue South