Wildheart Wednesdays : Creating Community thru stories and song feat. Ruthie Collins , Natalie Stovall , Nikita Karmen & Paul Freeman
Wed
June 2, 2021
6:30 pm
(Doors:

5:30 pm

)
3rd and Lindsley
All Ages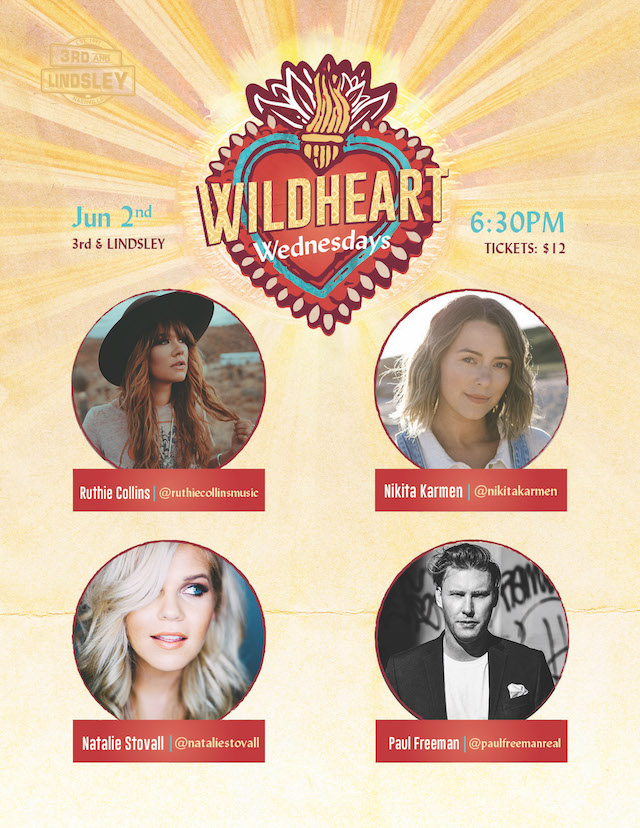 $12.00
Ruthie Collins: Curb recording artist Ruthie Collins is always at home in nature as well as in Nashville's honky tonk bars, Collins considers the Joshua Tree National Park in California the place that holds the deepest meaning for her and her music. The first single from her lasts album, a song called "Joshua Tree" was inspired by the love-story-turned-tragedy between Emmylou Harris and Gram Parsons. For Collins, the song feels "like a luck charm," infused with the special energy of a place she's returned to many times for inspiration, recharging and peace. "This song means many things to me now. It's not only a snapshot of a great loves story that almost was, but it's the idea that love is never truly gone, because love cannot die. No matter where you are in the world or in time, love always exists.

Natalie Stovall : Natalie Stovall has recently joined Runaway June, keeping the band a trio. The artist and her new bandmates, Naomi Cooke and Jennifer Wayne are excited to be working together. Her other band, The Drive were relentless road warriors. Performing over 200 dates each year across college campuses, clubs, festivals and military bases around the world. Natalie, a Tennessee native, is a powerhouse vocalist and multi-instrumentalist, who has been playing professionally since she was ten. A fiddle phenom, Natalie made her Grand Ole Opry debut at the age of 12, and has performed everywhere from the White House to The Oprah Winfrey Show.
Natalie was named one of CMT's "Next Women of Country' and was recently awarded "Best Female Artist" and "Best Music Artist" by Campus Activities Magazine. Natalie has been touring with Bobby Bones and the Raging Idiots as a featured performer, writing and recording for her next 2018 release.
Nikita Karmen: She moved to Nashville from Australia and got her feet wet getting co-writes with Nashville's top songwriters. Then she began touring with Bobby Bones and his band the Raging Idiots. "One night on stage he pulled me out and said, 'let's just see what she does.' I started playing Jolene, and quickly realized this was going to be the best college for me. I had no concept of what I was getting when I auditioned for Bobby Bones." After the tour with Bobby, she would move to Nashville permanently, thanks to a publishing deal with Black River Entertainment which allowed her to get an extended work visa. Now she was officially a songwriter for a living, which was a dream since the age of 15. "I couldn't wait to fill out a form and put 'songwriter' down as my occupation," she remembers. Now, several years and several hundred songs later, Nikita is recording her own music for her own album, not focusing solely on one of her songs landing on someone else's. She is writing and recording with her friend and fellow singer-songwriter, Walker Hayes.
Wildheart Artist of the week: Paul Freeman