Lightning 100 Nashville Sunday Night
Yonder Mountain String Band
Thu
May 21, 2020
8:00 pm
(Doors:

6:00 pm

)
3rd and Lindsley
All Ages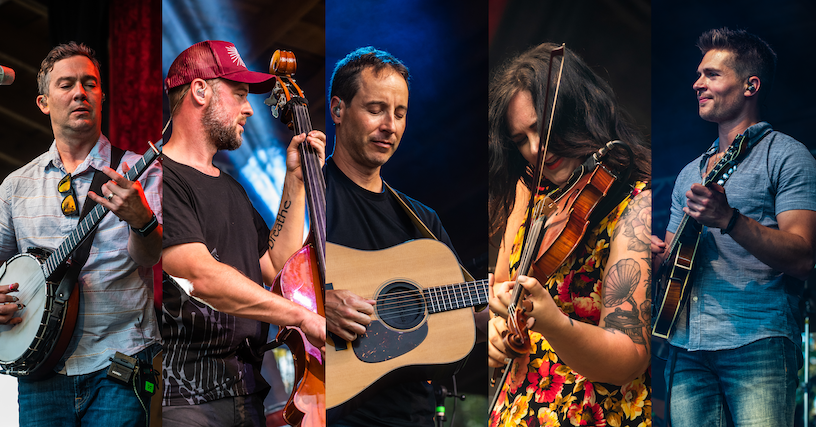 $30.00
*NEW DATE, rescheduled from March 15th to new date May 21st!

**LIMITED SEATING AVAILABLE**
Yonder Mountain String Band's first new album in two years, LOVE. AIN'T LOVE is undeniably the Colorado-based progressive bluegrass outfit's most surprising, creative, and yes, energetic studio excursion to date. Songs like "Chasing My Tail" and "Alison" are rooted in tradition but as current as tomorrow, animated by electrifying performance, vivid production, and the modernist power that has made Yonder one of the most popular live bands of their generation. Melding sophisticated songcraft, irrepressible spirit, and remarkable instrumental ability, LOVE. AIN'T LOVE is a testament to Yonder Mountain String Band's organic, dynamic, and intensely personal brand of contemporary bluegrass-fueled Americana.

"I think this is our best album yet," says Adam Aijala, guitarist.

Yonder founding members Aijala, banjo player Dave Johnston, and bassist Ben Kaufmann reconfigured Yonder Mountain String Band as a traditional bluegrass instrumental five-piece in 2014 with the recruitment of new players Allie Kral (violin) and Jacob Jolliff (mandolin). The reconstituted group debuted with 2015's acclaimed BLACK SHEEP, but truly gelled as they toured, the new players' personalities seamlessly blending and elevating the intrinsically tight Yonder sound. Yonder made certain to show off the current roster's growing strength with the 2017 release of MOUNTAIN TRACKS: VOLUME 6, the first installment in their hugely popular live recording series since 2008.